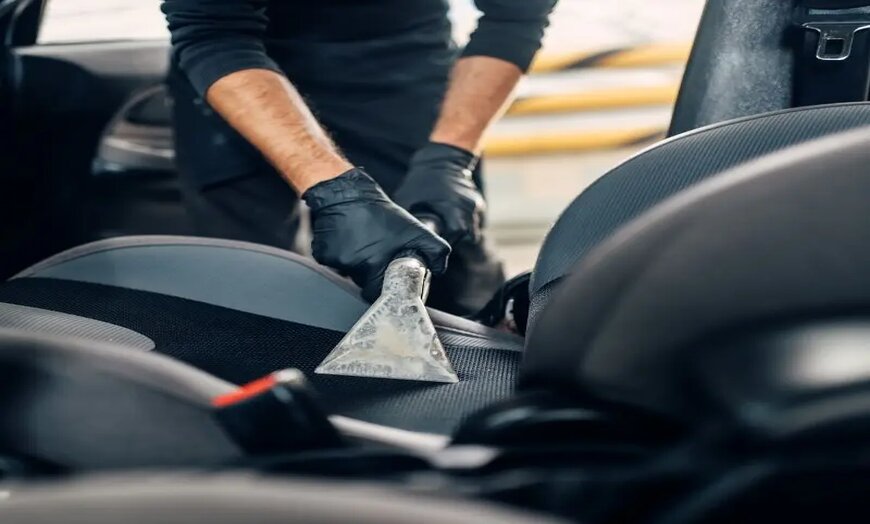 DEEP INTERIOR DETAILING
Our Deep Interior Detailing Package, takes your interior from dirty to looking New. We'll clean everything from top to bottom, inside-out, front to rear to the best condition possible (our Basic Interior Detailing package, plus we'll shampoo your cloth seats and carpet, as well as use the extractor, and steam cleaner for deep cleaning.
Cloth seats and carpet will be shampooed, and steam cleaned, floor mats, door panels, door jambs, headliner, dashboard, vents, visor, windows, cup holder, and space between the center console and seats, will all be thoroughly steam cleaned, and detailed. While leather seats will be deep cleaned.
No matter how difficult the stain may be to remove, we promise to try our best. As part of our deep interior detailing package, we'll try out best of our cleaning abilities to remove any stains that are in the interior, but it does not mean every single stain will be gone but again we will try our very best.
Being able to remove stains is based on the type of stain, how long it's been there and the type of material that it's on, many stains are not completely removed but 15x better with our Deep Interior Detailing Package.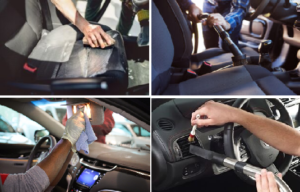 Our Deep Interior Detailing includes steam cleaning, shampooing, and heated carpet extractor cleaning. As means to further protect your investment, and remove germs on the surfaces, we'll also apply MIRCO-Ban to help you limit the number of germs on the surfaces, as well as apply applicable dressings to protect your dash, leather, and steering wheel from the UV blockage from the sun's UV rays.
Here Is Our Deep Interior Detailing Process:
Removing all items: put all the personal items that were removed from the car into the bag, so we can have a better cleaning process without items getting in our way and once we are done, we will put your items where they were.
Thorough vacuum: All interiors will be vacuumed including the trunk.
Shampoo, Steam clean, and heated carpet extractor cleaning: Seats and floor mats: spray, agitate the stains with a drill brush, steam clean and follow up with heated carpet extractor cleaning to remove the excess water from the seats and carpet. All upholstery will be cleaned and extracted.
Clean vinyl, plastic, and leather – Use brushes, pads, and compressed air to deep clean plastic surfaces like door panels, center console, cup holders, etc.
Clean windows and mirrors: We'll clean and wipe down all interior glass and mirrors.
Final Details – Before we turn the vehicle in, we will thoroughly check for any missed areas or areas that we can improve.
Tasks to be performed:
Thoroughly vacuum the Interior and trunk

Seat and carpet steam cleaned, shampoo, and follow up with heated extractor cleaning

Steering wheel compartment, instrument cluster, and side panels cleaned

Space between the center console and seats vacuum steam cleaned

Floor mats, and door panels steam cleaned

Dashboard, vents, visor, windows, and cup holder steam cleaned

All cracks and crevices cleaned

All panels applied with a shine dressing
Have More Questions? Visit our FAQ page where we answer a lot of your questions from different services.